During the cruise you can enjoy the view of historic part of Bratislava, its waterfront and Bratislava castle. After that the cruise continues under the bridge SNP, which is one of the main city sight. Under the Lafanconi bridge the boat turns around. On the right side of Danube you will see Sad Janka Kráľa (a park) and finally you can enjoy views between the Old bridge and the Apollo bridge. 
Cruise schedule: 
23.4. - 31.5. 2022 FROM TUESDAY TO SUNDAY 15:30
1.6. - 28.8. 2022 FROM TUESDAY TO SUNDAY 11:00 / 13:30 / 15:30
29.8. - 25.09. 2022 ONLY SATURDAY AND SUNDAY + HOLIDAYS 11:00 / 13:30 / 15:30
26.09. - 23.10. 2022 ONLY SATURDAY AND SUNDAY 15:30
Route of the cruise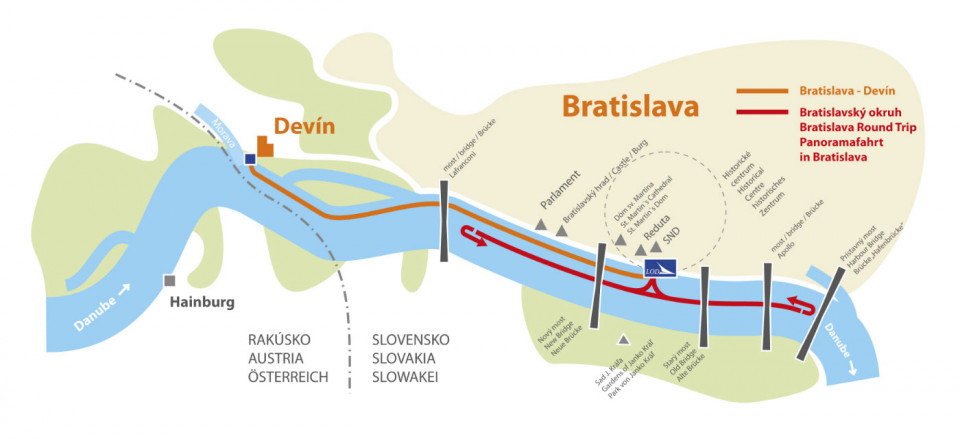 Tickets
Ticket´s price
Adult
€ 12,00
Children (2-15 years old)
€ 10,00
Bicycles
€ 2,00
Internet tickets can be bought at the latest 24 hours before the cruise. In case that it´s not possible to buy them more than 24 hourse before the cruise, it means that the cruise is full or there is clossed society. In case that you want to buy a ticket later then 24 hours before, we advice you to contact us via phone: +421 252 932 226 or via email: travel@lod.sk.

Students, seniors (older than 60), disabled person: 10%
Children under 2 years of age stay free of charge. However, they are not allowed to occupy their own seat.
In bigger groups every 21. person is for free. 
Family ticket
For every 2 adults there is 1 child (2-15 years old) free. This discount is only available in the travel agancy.
We advice our clients to make a reservation in advance. 
---
Services
At the moment we don´t provide any buffet, where you can buy snacks, cold and hot drinks.
Written reservation is mandatory for groups bigger than 10. 
Option to book a guide (in foreign language) for groups bigger than 10. Price and more information in travel agancy.
---
Important information:
Boarding starts 15 minutes before the departure of the boat!
Children under 2 years of age stay free of charge and they are not allowed to occupy their own seat.

Internet tickets can be bought at the latest 24 hours before the cruise. In case that it´s not possible to buy them more than 24 hourse before the cruise, it means that the cruise is full or there is clossed society. In case that you want to buy a ticket later then 24 hours before, we advice you to contact us via phone: +421 252 932 226 or via email: travel@lod.sk.

General Transport Terms and Conditions are part of the Cruise Timetable 2022. Slovak Shipping and Ports – Passenger Shipping, Inc., reserves the right to change prices, terms and schedules in view of facts not known at the closing time of the Cruise Timetable 2021
Downloads: